This blog post has the goal of presenting two things. First of all, we'll be taking a closer look at the BIM process itself after which we will mention certain tools that benefit the steps of the BIM process. Software is developed in order to make the whole process simpler, focusing on transparency of information and their availability, all while improving the overall communication between individuals involved in the project.
Building information modeling (BIM) is a process supported by various tools, technologies, and contracts involving the generation and management of digital representations of physical and functional characteristics of places.
Building information models (BIMs) are computer files (often but not always in proprietary formats and containing proprietary data) that can be extracted, exchanged, or networked to support decision-making regarding a built asset.
BIM software that is commonly used is Revit, ArchiCAD, SimpleBIM, Tekla, etc.
Simply put, it's the step forward in planning, design, implementation, and maintenance of a building that uses the information model of a building containing all the information regarding its entire life-cycle. With BIM, the entire project is made easier to work with. All of the participants of the project can have access to all the information regarding the building, thus making the collaboration between colleagues significantly easier.
Thanks to BIM, it is possible to recreate a virtual building model which is not a simple 3D representation, but a dynamic model that contains a range of information regarding:
• geometry
• materials
• load-bearing structural members
• thermal and energy performance characteristics
• technical installations
• costs
• health and safety aspects
• maintenance and facility management
• life cycle
Now, BIM processes have been recognized as steps to "full" collaborative working. These have been defined within a range from 0 to 3, and, whilst there is some debate about the exact meaning of each level, the broad concept is as follows.
Level 0 BIM
In its simplest form, level 0 effectively means no collaboration. 2D CAD drafting only is utilized, mainly for Production Information. Output and distribution are via paper or electronic prints, or a mixture of both.

Level 1 BIM
This typically comprises a mixture of 3D CAD for concept work, and 2D for drafting of statutory approval documentation and Production Information. CAD standards are managed by British Standards (BS 1192:2007), and electronic sharing of data is carried out from a common data environment (CDE), often managed by the contractor.

This is the level at which many organizations are currently operating, although there is no collaboration between different disciplines – each publishes and maintains its own data.

Level 2 BIM
This is distinguished by collaborative working – all parties use their own 3D CAD models, but not necessarily working on a single, shared model. The collaboration comes in the form of how the information is exchanged between different parties – and is the crucial aspect of this level.

Design information is shared through a common file format, which enables any organization to be able to combine that data with their own in order to make a federated BIM model and to carry out interrogative checks on it. Hence any CAD software that each party used must be capable of exporting to one of the common file formats such as IFC (Industry Foundation Class) or COBie (Construction Operations Building Information Exchange). This is the method of working that has been set as a minimum target by the UK government for all work on public-sector work, by 2016.

Level 3 BIM
Currently seen as the holy grail, this represents a full collaboration between all disciplines by means of using a single, shared project model which is held in a centralized repository. All parties can access and modify that same model, and the benefit is that it removes the final layer of risk for conflicting information.

This is known as 'Open BIM'.
4D BIM and beyond
Finally, the concept of '4D' BIM has become a buzzword in recent years. This equates to the use of BIM data to analyze time; beyond this are '5D' which includes cost management, and '6D' for facilities management (FM) purposes.
AEC (Architecture, Engineering, and Construction) industry, with its new approach to data management, is quickly growing. Throughout the AEC industry, the goal is to connect the information about items (items are the universal business language of Engineering companies) which can further be used to quickly create reports, bills of material, etc. Just for example, when we compare the traditional approach to AEC projects, to the modern one, the main difference is this all-in-one information attitude. It connects each phase of the project, and individuals working on the project, by giving them access to project information they may require.
Walter Code's developers are working on software solutions for the AEC industry, aiming to bring innovation to the way things are done.
BIM modeling is a widespread method already. The idea that the whole project's lifespan could be made more accessible, easier to read, and more informative is the main one.
With information from several ongoing projects, we'd like to shine a light on some innovative software solutions made entirely for the AEC industry to improve the efficiency and ultimately the quality of work.
Alright, now that we've covered the basics of BIM, let's take a closer look at some of the phases of a BIM process on a project.
It all starts with Programming, the phase which incorporates organization and planning of the project to be done. Of course, a solid foundation is always required! At this phase, it's mostly functional programming, defining and planning your project functions and later communicating them with project members. Streamlining the communication part in order to make sure everyone gets their piece of information immediately is quite important and it can further be made easier using cloud-based data management systems, allowing everyone involved in the project to access it whenever.
After the general planning being done, we get on to the design phase, which can be split into Conceptual design and Detailed design.
At this phase, there are particular addons in desktop software, such as Revit, which enhance the design phase. One of the addons accelerates project documentation, it helps optimize working methods. Standards are built-in, everything is preconfigured to enhance your BIM workflow. With preset tools to help the designer with the design, everything flows more smoothly. At this phase, it's important to synchronize multiple disciples (architecture, electrical, mechanical, etc.) for collaboration, and cloud-based access to project files has shown quite helpful through this phase.
Particularly, a preview of the model in 3D before the building is actually built to help prevent and fix any issues and plan out all the details before construction is one of the perks of the BIM process.
Throughout the project lifecycle, we aim to enhance the collaboration of people working on the project. Instead of using the traditional approach of working with files, we provide users an easier way to access the data. Using various BIM tools, it is possible to process information from files and present it in real-time. The data can be synchronized back to the original file or used in the creation of complex reports. Some 10 years ago, a system was created that made "work" with doors in the process of design, easier. This particular system grew through the years, making it possible to "communicate" with the objects within a project, attaining information such as material, costs, geometry, etc.
Now we get to the actual Build phase. Fabrication begins using BIM specifications. Project construction logistics are shared with trades and contractors to ensure optimum timing and efficiency. Various software is used for enhanced data management and synchronization of changes. With an active preview of the model and model changes in 3D, each step of the Build phase can be closely monitored to see if it is all going to plan.
Finally, once the building is actually constructed, we worry about Facility Management or the maintenance of the building itself. During Facility Management, it is quite important for everyone involved to be up to date, and data management software, paired with easier maintenance planning is supposed to make overseeing the activities easier, all while enjoying a 3D model preview during Facility Management.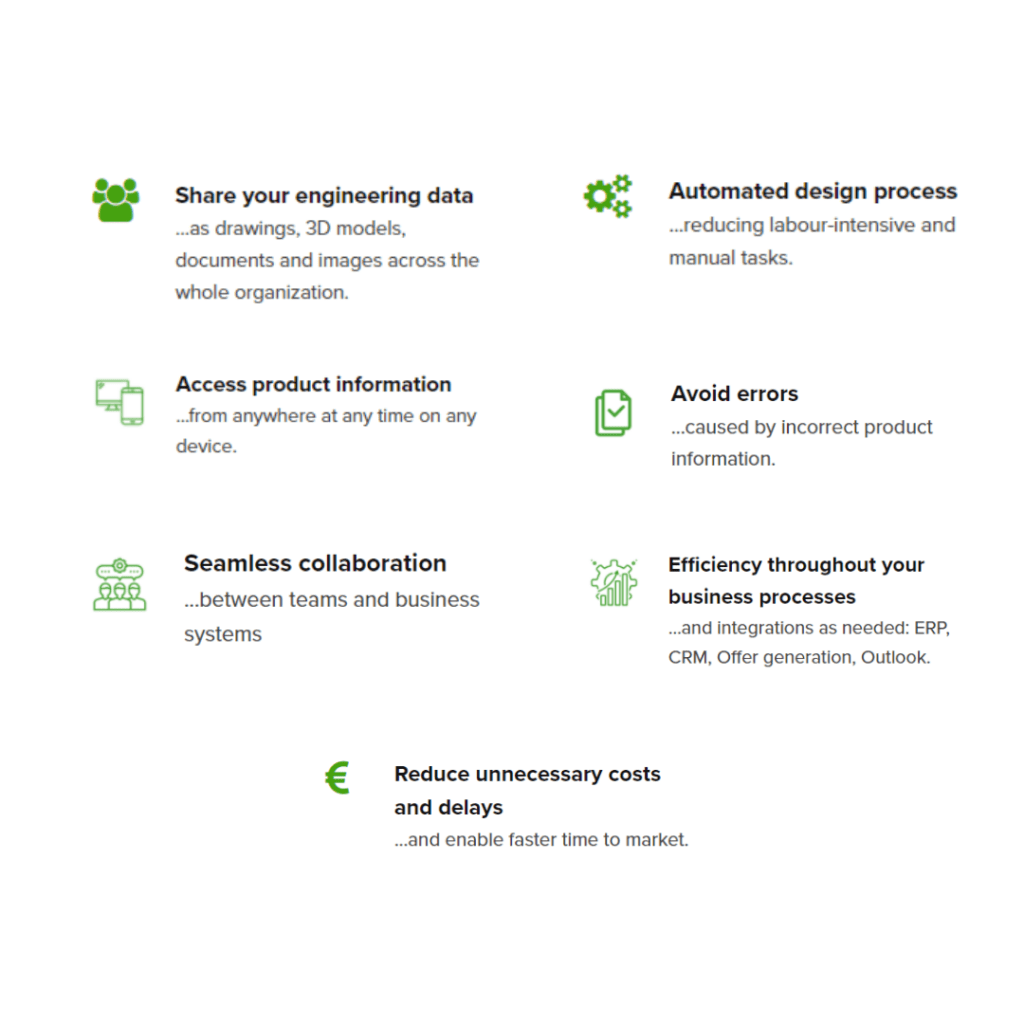 The perks that you can see above are closely related to the PLM( Product lifecycle management) and Engineering processes within BIM. Helping companies attain sustainable and lean business processes throughout the product lifecycle, from concept phase to disposal and recycling of the product is the goal of the innovations within projects we're working on.
They are easy to configure and provides full capabilities to manage and access product data at different steps of the product lifecycle. Our PLM solution is a combination of pre-configured tools and processes that have been proven in the industry.
On the other hand, a Data Sharing solution that is simple to implement and allows you to manage, share and access design data easily, efficiently, and securely is quite beneficial when working on BIM projects.
Some of the "widgets" help you to produce high-quality designs on time and budget to gain competitive advantages. Design information can be managed and released reliably to non-CAD users, change requests captured, and controlled design changes implemented.
To sum up, we tackle the problems of the construction industry:
Employees in the organization are less connected
Few general central nodes, but semi-central nodes are connected to the construction site/project
A large proportion of external parties outside the organization in the construction site/project
By adding transparency and efficiency to your project management, you radically improve the collaboration on your projects.
Further still, cloud-based BIM data management systems are made fully accessible! Why worry about accessing the information within the project, when it can be available whenever you need it. To have all the necessary information around a building project, in one place, it's a dream come true!
On the other hand, it is now possible to enhance the users' entire BIM workflow. The belief that efficiency is a key factor in achieving success, and solving challenges, fully explains why optimal preconditions should be offered in projects to help productivity, documentation, collaboration, and managing projects.
Why not have your BIM processes entirely accessible by the cloud? A large number of applications and tools that allow users to easily view and edit the selected data set? Sign us up! Synced data, complex report creation, improved collaboration on projects – these are just some of the possibilities that our team is unlocking for those using BIM technologies.